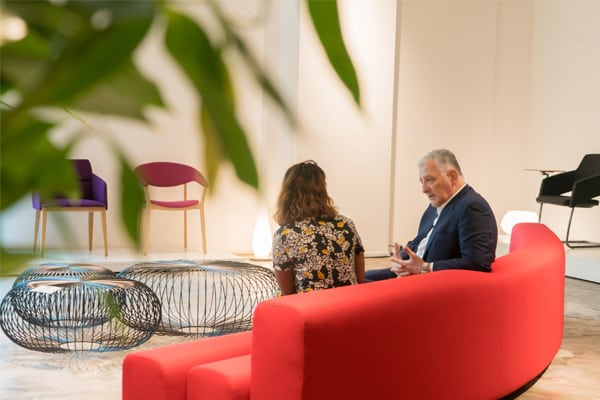 08 Aug

LaCividina and Crassevig: Exemplifying great design and functionality

The world is now much more design-oriented and it is becoming clear that design is changing the world, says Giancarlo Tomba, the business development manager of Italian brands LaCividina and Crassevig that produces statement chairs and sofas. Italian designer furniture brands have always recognised the importance of both design and functionality which is why Italian brands are renowned globally especially for their modern, contemporary furniture.

Among those brands, LaCividina and Crassevig are design-oriented brands that dare to push the edge a little by combining a sense of contemporary and modern creativity with functionality as well. Mr Tomba said: "LaCividina and Crassevig have both employed a sense of forward-looking creativity but maintained the Italian quality – as all upholstery are hand operated. One chair can take up to one week to make."

This is exemplified in LaCividina's latest collection, Waves, which is available at d'Doubles. Mr Tomba said that Waves was a product, which had a design element that was simply missing in the market. Mr Tomba said: "Waves, which was designed by Constance Guisset, has managed to create something so functional while incorporating fantastic design elements that embody something resembling the softness of the ripples. The poufs enables the collection to be used in multiple ways. This is something that buyers can appreciate as they can constantly change the look to suit and match the environment as needed".

Waves collection debuted at Milan's prestigious Salone del Mobile 2018 – and received rave reviews. Mr Tomba said: "It created such a huge impact in Milan. It was raved by many as something that was conceptualised brilliantly and also embodied functionality. Waves blew everything else out of the water".

Waves is exclusively sold in Singapore at d'Doubles and you can shop this collection as well as your favourite furniture online with ease at our new eMarketplace.

Similarly, Crassevig has also combined functionality with great design to produce outstanding pieces. An example is the Axel Chair. "It not only looks good but it is comfortable and provides ample support for the back, which is important to customers," said Mr Tomba.

Both LaCividina and Crassevig embody the best of Made in Italian brands – they are painstakingly crafted by hand by experts in Italy. What sets these two brands apart is their forward thinking and how they are able to bring out game-changing new designs that also suit people's basic needs. Mr Tomba said: "We fit right into the market where we are slightly more affordable than other top-tier brands and we bring you forward-thinking design that incorporates the best of what makes Italian furniture the best".