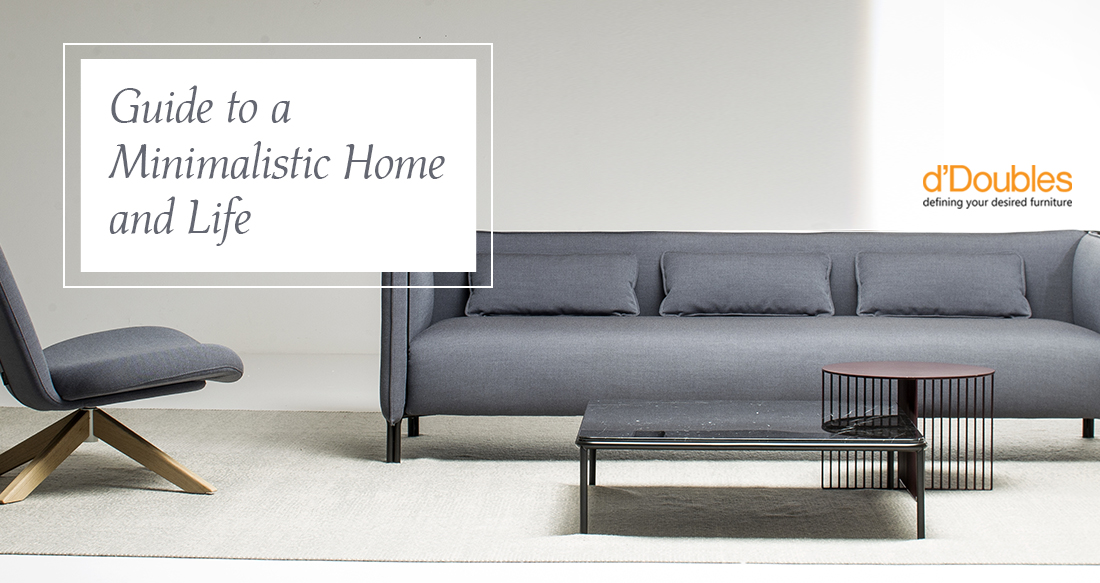 25 Sep

4 Guides to creating a Minimalistic Home and Life

According to research and studies, it had been stated that individuals who lived in a cluttered environment tend to experience a high level of stress throughout their life. Thus, living a busy life in Singapore had pushed the need for a freshly spruced space. To acquire serenity and peace among the hectic schedules of work, one must first start with their own home that they continuously revisit. Become a minimalist.

Keeping your home design to the basics and disposing of the redundant can do wonders for your sanity. Thus, establishing a sophisticated and sleek look for your home which provides a sense of calmness to your life. If you've been a longtime fan of the minimalistic home design look but yet unsure about how to start, d'Doubles would like to share with you our guide to achieve minimalism in your own "home" and your "life".

1. Home- Clear the clutter, reveal the surface 
Product Information: LaCividina's Mil Collection. Featured furniture (1): Tailor Sofa. Featured furniture (2):  Mil Coffee Table
Editors Description: By ensuring that the furniture's surface is uncluttered, it helps to establish the overall interior into an elegant, spotless and an expanse of space to the eyes of the beholder.
The first step to achieve the minimalistic look for your home is to remove the clutter on your furniture surfaces. Keeping your furniture clean and clear of clutter could help to establish a fresh spruced space. Thus, keeping your interior fresh to the eyes. To make sure your surfaces stay clear, give everything a special spot and stick to it.
2. Life- Focus on what's really important
If you're really serious about creating a simpler, minimal home and life, you would need to focus on "what's really important in your life." Clearing the clutter on your furniture surfaces does not ingrain minimalist in you unless you make it to practices. One would need to practice through the use of personal values to guide your decorating decisions. Disposing of the redundant and create room for your eyes. Focus on your goals and remove distress.
Work towards "less is more."
3. Home- Go for a neutral base colour
Product Information: laCividina's Guest Collection. Featured furniture (1): Guest Sofa. Featured furniture (2): Guest Lounge Chair. Featured furniture (3): Turi Turi Coffee Table
Editors Description: By using a series of relative close tones or neutral hues of the base colour, it would help to establish a sense of serenity within the interior. For example, LaCividina's Guest Sofa's stone grey tone helps to establish a relative close hue of the base colour, white. Hence, the combination of the two hues further strengthen the urbanity and quietude in the portrayal of the minimalist interior.
When creating a classic minimalistic interior, picking the right base colour is definitely essential. Using different neutral hues such as white, stone grey, ash grey and every tone in between. Using relative close hues of the base colour would establish a clean and fresh look which inspires a sense of calmness in the style of sophistication.
Thus, try to always stick to neutral hues such as the earth-tone browns, blues, tans, and greens would be easier for the eyes to ensure calm surrounding is set for the home.
4. Life- Create a space that nurtures, revives and restores
By using neutral based colours for your home, it would further help to establish a space which allows your eyes to be free from the cluttered and loud colours as similar neutral tones create a sense of calmness in you. Thus, allowing you to enjoy your space as you can rest, relax and restore your body peacefully. After all, homes are for the living.
Interested in getting exquisite furniture that fits your minimalistic themed home?
Do visit our emarketplace at https://eshop.ddoubles.com.sg/ or visit us at our retail outlet located at 61 Tai Seng Avenue, #01-04 Singapore 534167.