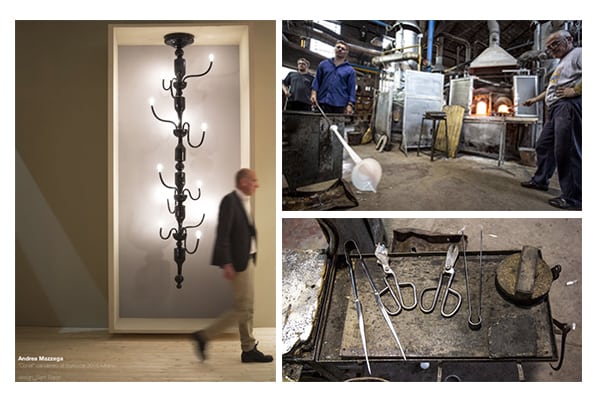 04 Jul

An exclusive interview with Andrea Mazzega, Founder of Mazzega 1946

How important is a good lighting fixture? Andrea Mazzega, the owner of Mazzega 1946, says "a good light can change your life and even make someone become a better person". This is why he sees the company as more of a mission. "I want to create beautiful products and make the made-in-Italy  brand famous around the world. He also wants to help people live better lives by helping them understand what sort of light fixtures they need. Of course, Mr Mazzega believes that light fixtures from Mazzega 1946, which was founded by his father, is some of the best in the world. Mazzega 1946 is sold worldwide and d'Doubles is the sole distributor for the brand here.

"Mazzega was founded in 1946 and since then we have been manufacturing chandeliers, for the private and commercial sectors that also include boutique hotels,". Despite their success, Mazzega 1946 continue to stand by traditional techniques of glassmaking to produce their beautiful light fixtures. These techniques include blowing glass, using the plate glass technique as well as the Venetian technique which gives shape to the pieces with the artisan's skills and experience. Glass-blowing artisans of Murano in particular were held in high esteem. They were the only people in all of Europe who knew how to make glass mirrors, which were in high demand among the wealthy. An artisan blows glass through a metal pipe and the air that goes inside the incandescent glass inflates and then shapes the glass.

At Mazzega 1946, there are two masters who each lead a team of three people and they have been trained through their years at the company. "These masters have built up their skills and experience and continue to use traditional techniques to create some truly beautiful pieces," says Mr Mazzega.

Mr Mazzega says: "Mazzega has always been faithful to their origins and we have embraced this tradition and combined it with modern design".

"This is what makes Mazzega 1946 stand out," says Mr Mazzega. Mazzega also uses Murano glass made on the Venetian island of Murano, which specialises in glassware. This traces back to more than a thousand years ago. Mr Mazzega, filled with pride, talks about how the furnaces were originally in Venice. However, due to poor fire prevention capabilities in Venice back then, a decision was made to bring all the furnaces to Murano, a small isolated island. Murano's glassmakers paved the way for glassmaking in Europe for centuries and they often developed or refined unique technologies. Even now, the artisans of Murano continue using these old techniques to create beautiful glassware like chandeliers.

So what's Mr Mazzega's favourite piece? Stand by Mazzega 1946. It is a floor lamp designed by his good friend Christophe Pillet, made with handblown glass, that stands upright. It just beautifully exemplifies the skills of the designer as well as the glass blower, says Mr Mazzega. "It simply shows how when customers buy something from Mazzega 1946, they are also getting a piece of history from us," said Mr Mazzega.

What's your favourite? Check out Mazzega 1946's lights exclusive at ddoubles.com.sg.