29 Aug

Bidding War
What is the d'Doubles Bidding Wars?
We have implemented a revolutionary bidding system that allows you to enter a price lower than the original stated price of the products – Only at d'Doubles! This is not an auction, but rather an opportunity to open negotiations with us on our exclusive series of products. Bidding does not mean you are purchasing the product, and you can bid for several – why not test it out.
Why Bid?
We take into consideration several factors before accepting the many bids, such as a products popularity or even something as simple as the quantity ordered. The more you buy, the less you pay. You can pool your friends or like-minded people to join this bidding system separately or together as the bid price can come even lower with more quantity!
What's more? We will provide the LOWEST bid price agreed upon to everyone who put in a bid! That's right, just by putting in a bid, you will be eligible to enjoy someone else's lower bid. As stated, bidding does not constitute a purchase, so you have nothing to lose and everything to gain!
We will also be selecting a few lucky bidders to receive a small surprise from us! What's the surprise? Bid to find out!
How To Bid?
Step 1: Click "Bid Now" on the product page. This button is available for ALL our products.

Step 2: Enter your desired quantity and bid price, click "Place Bid" to submit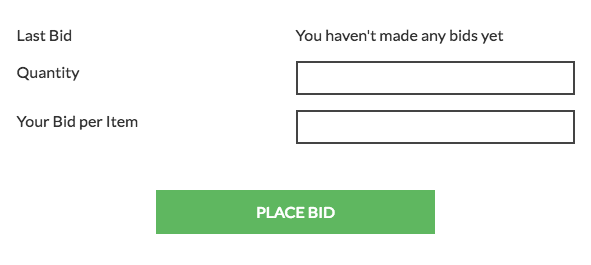 Step 3: Sit back and relax!
Step 4: We will get back to you regarding the status of the bid within 24 hours.
Step 5: Once your bid is accepted, you can proceed to add the items to your cart and make payment (Yes, the price will be changed on YOUR end, hassle-free)
Try out the bidding system for yourself and you might be one of our lucky few to receive a surprise! Why wait?

Try bidding