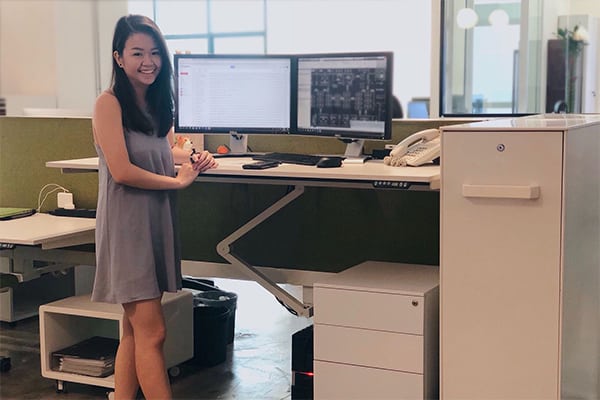 04 Jul

Staff Favourite: Height adjustable desk, MAX by Markant Office

In this monthly column, we spoke to Tan Si Pei, a d'Doubles employee about her favourite piece of furniture.

She constantly faced backaches and sore muscles from being slouched over a desk. But good office furniture at d'Doubles has changed all of that. Tan Si Pei, a designer at d'Doubles, is now very happy with her workstation, which features Markant's height adjustable table.

What she likes about the table is the ability to sit or stand at any point. For example, if she has just come back from lunch, she likes having the option to stand as she gets back to work. "Sometimes, after lunch, I feel sluggish and standing ensures that I have more blood in my brain and this means that I am more productive throughout the day," says Si Pei.

A height adjustable desk allows her to incorporate the concept of a dynamic working environment that allows her to be active even while working. "I like that I am able to stay active even with an office job," says Si Pei. That the desk is simple and sleek with a concealed motor and a slick leg structure makes the desk more of a draw.

The sit-to-stand workstation also improves discussions with her colleagues. "It is convenient because when my colleagues and I are having a discussion at my workstation, they do not have to bend down or pull a chair over to work together on something. Instead, I can simply increase the height of my table where we could comfortably discuss while standing. The need for less chairs also means that there's more space and this make it an optimal condition for discussions in the office," says Si Pei.

Another feature that Si Pei loves is the table's detailed cable management. Si Pei says: "I am working with a desktop so managing the five or more cables can be a hassle. But with this workstation, it is no trouble to keep my working area neat and clean".

Markant's Sit to Stand workstation combines functionality and design as well as encourages employees to be active. It has even inspired Si Pei to be more active and healthier. In fact, she is already considering purchasing the desk for her future home. She says: "It would be great to have this in a study room where I could sit down to catch a show or stand up while doing some crafts".